The automotive industry plays a very important role in the development and implementation of logistics processes. Processes such as JIT (just-in-time) and JIS (just-in-sequence) are proof of this cutting edge role, and these are now also used by other industries with increasing efficiency.
In such a dynamic and innovative environment, the logistics service provider requires an integrated information platform that presents the logistics processes transparently over all process levels. The haulage order processing system's ability to integrate into automotive logistics processes creates synergies and produces a decisive competitive advantage over other logistics service providers.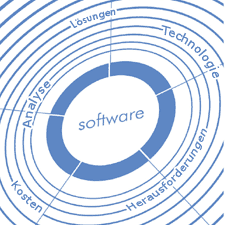 Integrationsfähige
Auftragsabwicklung
The Car_O©-Automotive module supports the logistics processes that are relevant for the respective automobile company. When an order is entered, Car_O©-Automotive checks the entries for completeness and logical content. During the order planning the data is provided for further process steps, such as data transfers or on-board truck computers.
When calculating freight, Car_O©-Automotive includes the calculation logic of the automotive companies and provides invoicing-relevant data for electronic invoice transfers and credit memo procedures. Where a credit memo procedure is performed at the customer side, Car_O©-Automotive handles the credit balancing and creates the appropriate transparency. In conjunction with an MIS (Management Information System) based on Oracle Discoverer, Car_O©-Automotive provides the process information required to both internal and external users.
Volkswagen AG
A short list of the most important features:
Order entry in accordance with Volkswagen AG specifications
DESADV transfer for AMES-T management
MRP and controlled collection in accordance with AMES-T interface, VDA4913 input
VDA4913 input interface
VDA4913 output interface
VDA4921 output interface
Freight documents in accordance with Volkswagen AG specifications
Freight billing in accordance with Volkswagen AG billing logic, Volkswagen AG credit memo procedure (MTB2)
Oracle Discoverer interface
BMW AG
A short list of the most important features:
Order in accordance with BMW AG specifications
VDA4913 input interface
TRP/RTS interface
Freight documents in accordance with BMW AG specifications
Freight billing in accordance with BMW AG billing logic
BMW AG credit memo procedure
Oracle Discoverer interface
DaimlerChrysler AG
A short list of the most important features:
Order entry in accordance with DaimlerChrysler AG specifications
VDA4913 input interface
VDA4921 output interface
Freight documents in accordance with DaimlerChrysler AG specifications; freight billing in accordance with DaimlerChrysler AG billing logic
Oracle Discoverer interface