Groupage freight transport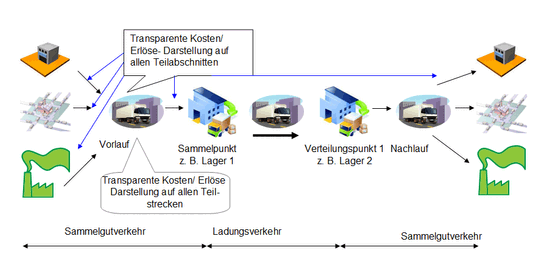 Groupage freight transports are identified by the bundling of several shipments into one specific part of the transport route (multi-link transport chain). Increasing customer requirements, growing complexity in logistics management and a high fixed costs percentage require an optimized and customer-oriented service provision. IT-supported planning and management of logistics services are a decisive key here in ensuring operational success. The special challenge in this respect lies in integrating customer-specific requirements into a standardised operational process.
With the formation of vertical (branch office and company structures) and horizontal organizational structures (areas of activity), Car_O©-Sammelgut (groupage freight) creates the required flexibility for the customer and at the same time also enables the retention of standardised company processes.
The proactive workflow management in Car_O©-Sammelgut enables selected actions in the process progress to be individually reacted to (infos, e-mails, filling in fields, etc.). In Car_O©-Sammelgut the collect and/or deliver planning can be optionally planned in a separate data pool. This can be used for later target-actual comparisons and forms the basis for customer analyses.
Car_O©-Sammelgut supports all standard, multi-tiered transport processes (incl. rendezvous and intermodal transport), from MRP through to freight billing.
Management
A short list of the most important features:
Automatic routing
Credit limit check with order entry
Separate short/long distance planning
Collect/deliver planning
Mapping combi-shipments, part-route shipments and rendezvous shipments
Storage checks
Any amount of bordereaux/cartage notes per trip
Loading resources management
Status management/data communication input and output
Document confirmation (transport documents)
Central/remote freight billing
Document printing as individual/collective document or freely definable
Resource deployment plan
Interfaces to telematics systems
Administration
A short list of the most important features:
Mask designer for order entry
Workflow control
Freely definable authorization levels
Freely definable views (table views), multilingual
Database jobs administration
Parameters administration
Menu administration